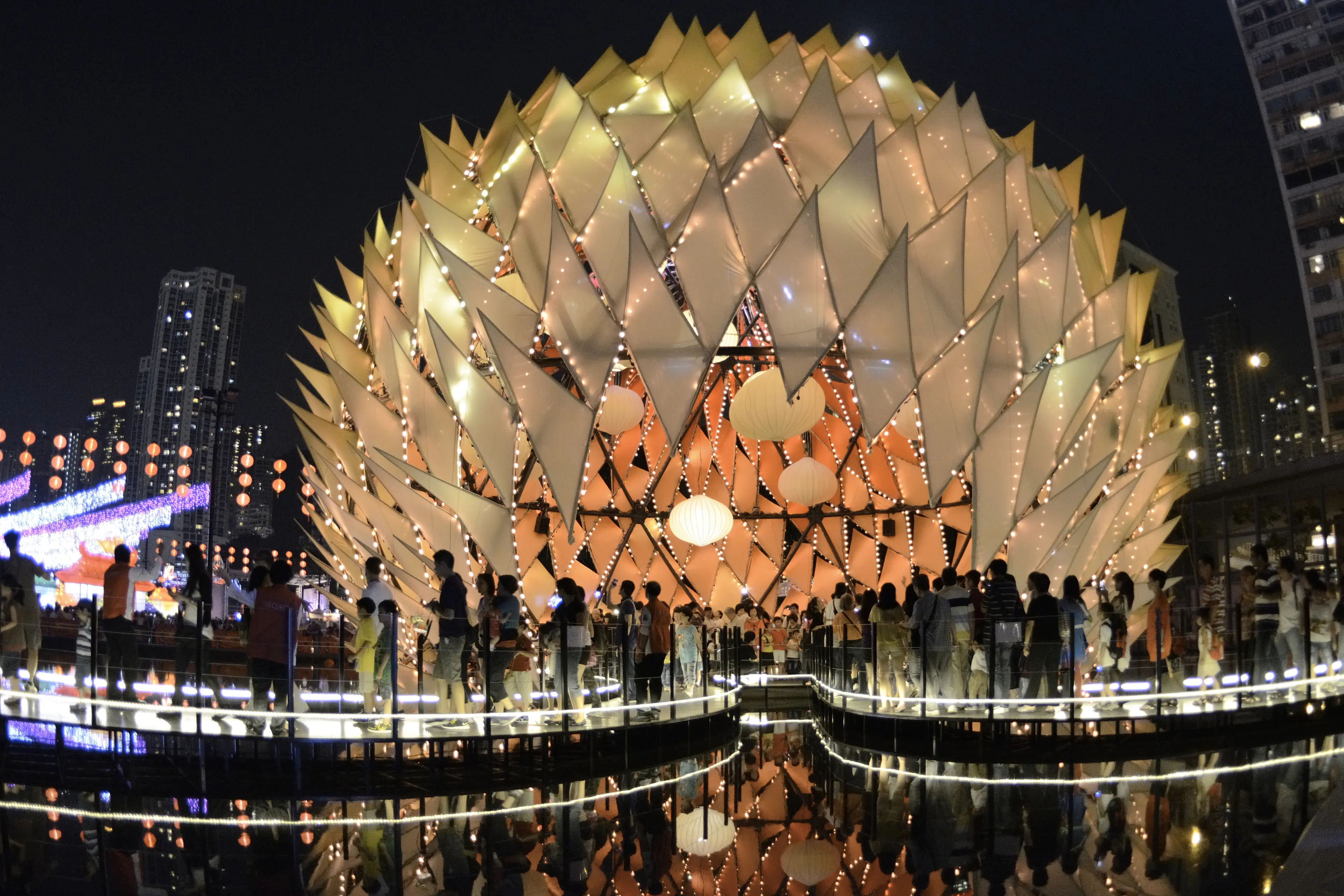 The mid-autumn festival in Hong Kong
parkisland / Shutterstock
September 12 is the date of the 2011 Mid-Autumn Festival, a traditional Chinese holiday. The date changes every year, as the festival is based on the lunar calendar and always held on the autumnal equinox. Here in Hong Kong, the day after the festival is a public holiday, too.
Victoria Park carnival
One way to celebrate the festival in Hong Kong is to attend the carnival set up in Victoria Park, accessible from the Causeway Bay and Tin Hau MTR stations. This is a carnival in a looser sense of the word–there aren't duck-shooting games or ski ball stalls. However, there are small groups of performers stationed throughout the park showcasing traditional activities like kung fu, Chinese music and dancing, and lion dancing. There are also food stalls selling popcorn, cotton candy, ice cream, etc.
In my opinion, the best part of the carnival is the abundance of colorful lanterns and twinkling lights, which turn an ordinary concrete slab of tennis and basketball courts into a fantastic wonderland. This year, a giant fish has been created out of orange and yellow lanterns, in hopes of winning a Guiness Book world record. Last year, the centerpiece was composed of dragons and bird, as well as traditional Chinese masks.
Tai Hang fire dragon dance
The other main event for the Mid-Autumn Festival here in Hong Kong is the Tai Hang fire dragon dance, which begins in Victoria Park and then makes its way through nearby city streets, accompanied by some dancing, drumming and many Chinese lanterns. The dragon is made of lit joss sticks, or incense, and it is very, very long. It takes many men to carry it on its winding, dancing journey. Crowds of people flock to this event, and I would not recommend it to the claustrophobic. It is worth seeing, but just know that you will be jostled and squished by the people around you, and your eyes may sting a bit from the incense.
Mooncakes are the traditional food of the Mid-Autumn Festival. They are an interesting confection, consisting of a doughy pastry on the outside and a paste filling on the inside. The paste is often lotus seed paste with a salted duck egg yolk or two as well. Other varieties of mooncakes include ice cream ones made by Haagen Dazs. Mooncakes can be a bit expensive, but they are worth a try for sure. I quite like them actually.
So, happy Mid-Autumn Festival from Hong Kong!