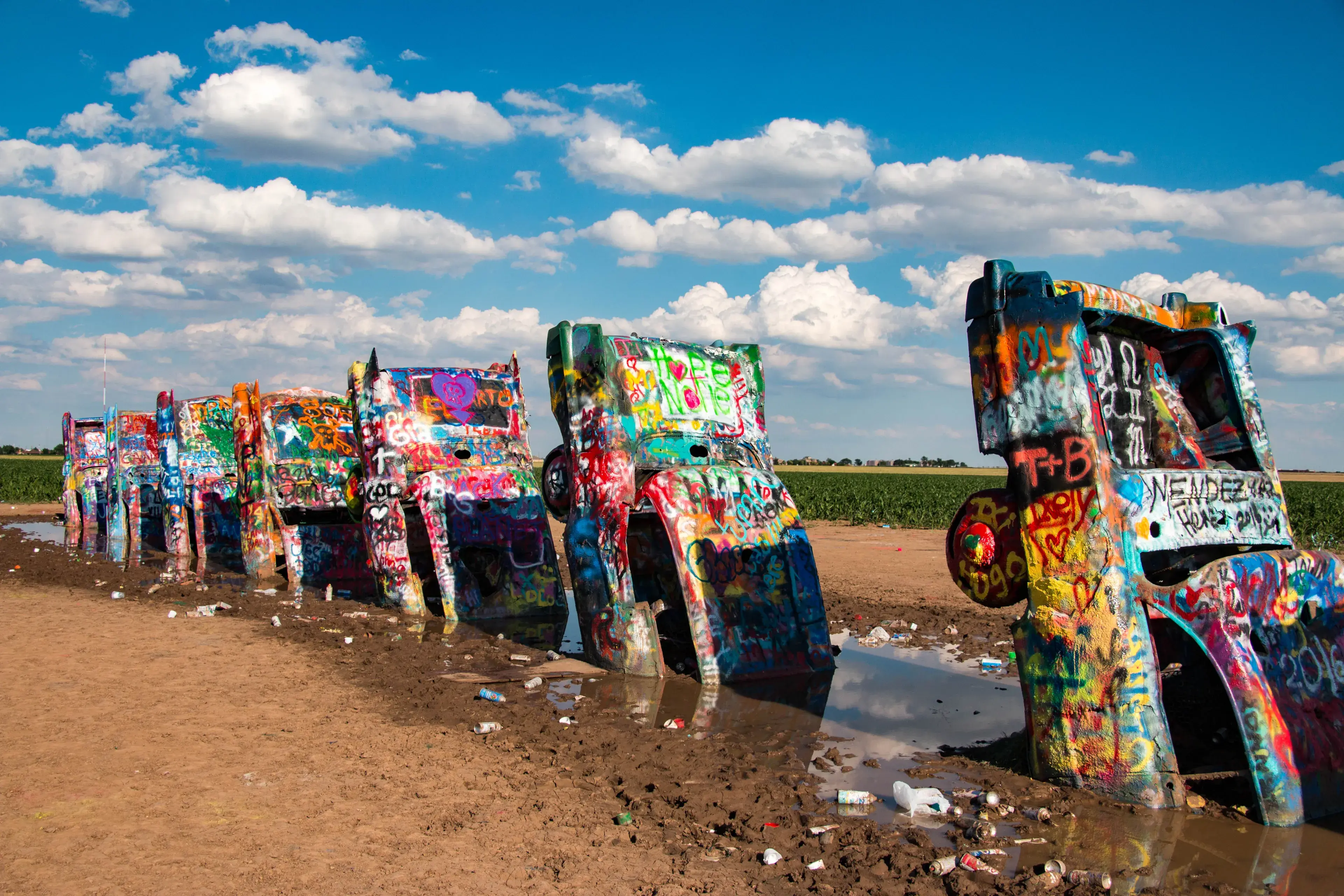 Having Fun Along Route 66
evenfh / Shutterstock
I'm definitely one of those people who has a travel bucket list. Nothing is numbered. There's no specific order. But it is full of places I need to visit before dying. Under the section "within America", I have "drive all of Route 66". It runs from Chicago, Illinois all the way to Los Angeles, California and was the beginning of our current interstate system.
I was actually discussing Route 66 with my boyfriend a couple weeks ago. He's vowed this is one adventure he'll sit out on. He argues there's nothing to do on Route 66 and driving the whole thing is just a boring waste of time.
It's time to prove him wrong. There are plenty roadside attractions to keep you busy on your trip. Most of them are even completely free.
If you're a history freak like me, stop at the Trail of Tears monument in Missouri. The monument stands in remembrance of all the Cherokee who died when they were forced to relocate.
Travel on the 9-foot-road, Sidewalk Highway. When Route 66 was in the makings, some areas of the road in Oklahoma were cut in half. It is one of the oldest parts of Route 66 and even though it's so tiny – you can still drive it.
While in Oklahoma, don't pass up on seeing The Blue Whale slide, which may just be one of the most recognizable attractions in this section of Route 66. The Blue Whale lives on a pond that travelers and locals like to swim in. You can stop for a picnic by the whale, then hop inside it and slide into the pond.
For fans of art, Cadillac's and all around unusual attractions, visit Cadillac Ranch in Texas. It is an art installation using junk Cadillac's. They are all buried halfway into the ground nose first. The Ranch is visible from the highway but you can get closer by driving along a frontage road then walking through the unlocked gate. Visitors are encouraged to write on or spray paint the cars.
One of the most recent additions to Route 66 is the Route 66 Monument in New Mexico. The top is made from chrome with a whimsical 66 on top. The backend of the monument closely resembles the trunk of a Cadillac.
Visit a meteor crater. When arriving in the northern part of Arizona, stop by 4,000-foot crater. One interesting features of the crate is it's shape. Instead of being round like you may think – it's actually more of a square with rounded edges. The crater is so big you can clearly see it from space.
Go on an Arizona safari at Bearizona Drive Thru Wildlife Park. This will set you back about $20 for each adult ticket and $10 for children (however, children under three are free). You can see bear, bison, sheep, goat and wolves all from your own car. They are closed for the full month of February.
"Walk the Sky" at the Grand Canyon Sky Walk. Experience the Grand Canyon while walking across a glass bridge. Unfortunately pets are not allowed on the Sky Walk and cannot be left in your car. For adults, tickets are $29.95 and children's tickets are $22.46
Once you hit California, make sure to visit the Bottle Tree Ranch located by Oro Grande. The Ranch is another famous art instillation on the Route. The Ranch is home to hundreds of welded bottle trees created by Elmer Long.
End your Route 66 trip at the Santa Monica Pier in California. Once there you can visit aquariums, amusement parks, tons of food carts and of course the historic Merry-Go-Round.