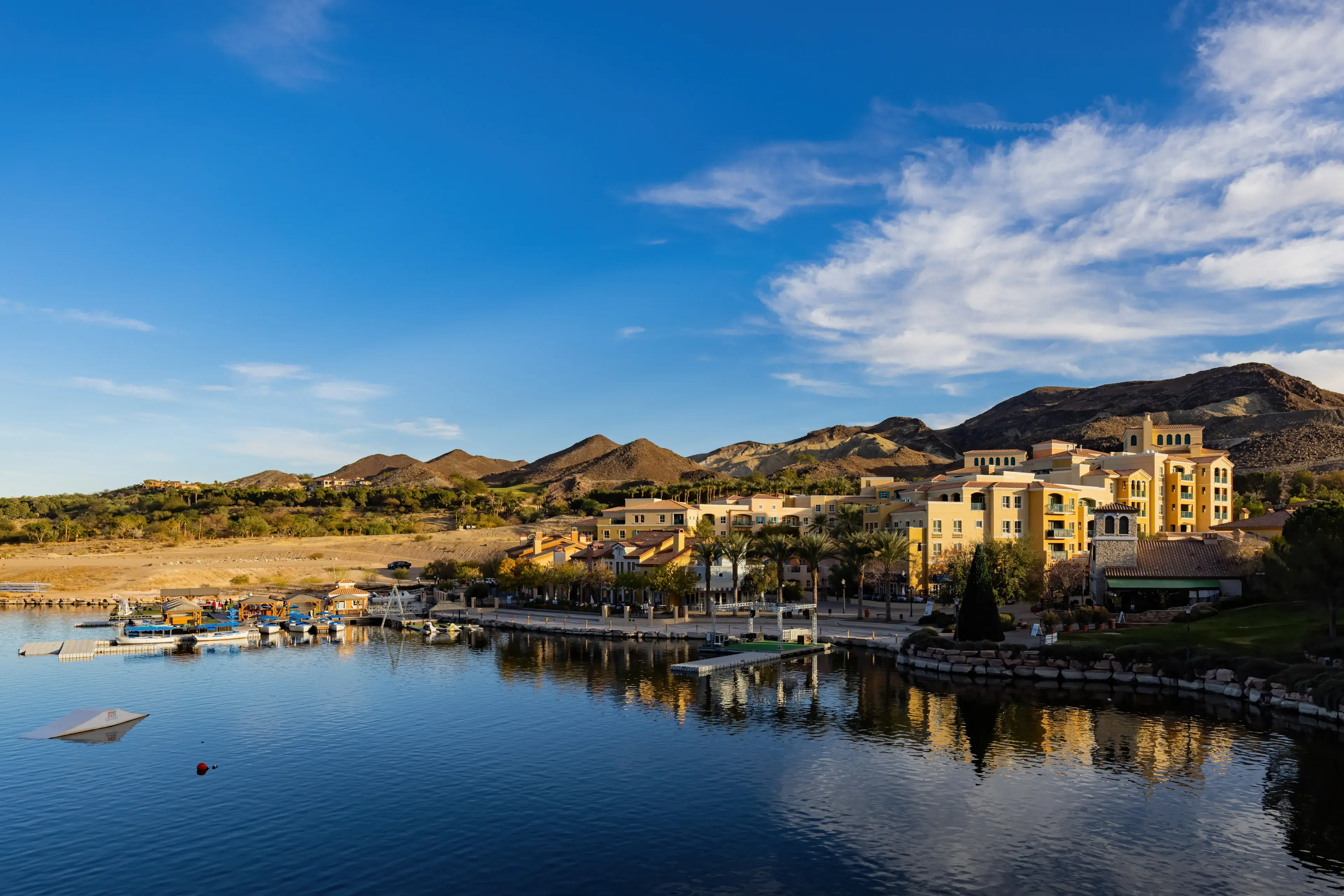 Blogger Meets Daylight at Ravella Vegas
Kit Leong / Shutterstock
As a blogger, sunlight and I don't meet as often as we used to. Too often I'm tied to my desk behind a computer screen, typing away, studying Google Analytics, and trying in vain to keep up with Tweets and Facebook posts and Diggs and Stumbles. Friday was a lovely change. Instead of writing about beautiful destinations all day, I got to visit one: the hotel Ravella at Lake Las Vegas.
Driving out to Lake Las Vegas, I was nervous. I had never been to a hotel opening before, I had never really been anywhere before as a representative of Travelated, and I was sure that I would do something to embarrass myself. While I did have one humiliating moment, it was only one, and it didn't mar the rest of the gorgeous opening of the Ravella at Lake Las Vegas.
I Didn't Get Drunk in the Lobby
I attended the event with JoAnna of WhyGo Las Vegas, and as soon as we arrived we walked into the Firenze Lobby Lounge, which was full of the who's who in the world of Las Vegas media. JoAnna and I relaxed with glasses of champagne (I had two glasses—the waiter offered me a third, but I had to drive home. Otherwise, I would have had six or eight) and chatted with other guests as we waited for the opening ceremony to begin.
Firenze Lobby Lounge is divided into three separate sections. It is such a versatile space; you could easily hold a meeting there or have a drink—or both. Meetings are always better with cocktails, aren't they? The lounge has a hi-tech library near the fireplace where guests can get some work done; a café where guests can relax with a cup of coffee; and a central lounge where guests can have a drink and admire the stunning lake view.
The Sun and I Have an Emotional Reunion
After mingling in the lobby for a while, we were led outside to the Florentine Garden for the opening ceremony. Chairs surrounded a large fire pit. The flames added to the ambiance, but were thankfully unnecessary. Ravella could not have asked for a more beautiful morning to open the hotel; after several cold days, warmth had returned to Vegas and my pale blogger skin felt wonderfully refreshed as we took our seats and listened to several speakers, including the mayor of Henderson, mark the occasion of the hotel's opening.
Why is the opening of a hotel a big deal, you ask? Doesn't it happen every day? Yes, it does, but this opening is significant because of what it brings to Las Vegas, and because of what it symbolizes. Ravella's opening marks a turn in the economic woes of this town. When times got tough last year, the Ritz closed and left hundreds of Vegas residents jobless. Ravella not only brings jobs back to a wounded city, but half of its staff is composed of former Ritz employees. I salute Ravella for that.
I Change My Shoes in the Middle of the Tour, Cause That's How I Roll
Following the opening ceremony, we toured the vast property. I came to the opening with stylish gray pointed flats, but as a seasoned Vegas walker I had a spare pair of comfy flats tucked in my bag. Ravella is a vast property, and five minutes into the tour my feet were screaming. As we stood on the beautiful, three-story Ponte Vecchio Bridge, I hung back as the tour guide explained something that was probably important and ditched my stylish shoes for the comfy fur-lined $10 Target flats.
They didn't match my outfit, but as first impressions were already over, I didn't care.
No one but JoAnna noticed my shoe swap, and while I missed the opportunity to luxuriate in the spectacular view of Lake Las Vegas from the bridge, it was worth it.
As we toured, I was most struck by the spectacular views seeming from every window. Visitors can see lake, desert, and mountains from their rooms, and it is truly a serene and calming sight. Ravella has 349 rooms, 33 suites, and two presidential suites. I could live in one of the presidential suites, I'm telling you. Each of those suites is bigger than my first apartment. And my second apartment. And very possibly my house.
I Seriously Consider Living Behind a Waterfall
The Spa at Ravella is available to guests and locals alike. I really wanted to sneak off the tour and chill in their relaxation room, but I checked the impulse (barely). The spa has the usual treatment rooms, heated year-round pool, and fitness center, but it also has on staff 'aroma artists' who can mix together wonderful scents to take care of anything you need—such as a hangover headache, which will certainly come in use in this town.
The spa has a terrace and meditation garden, as well as a beach that all hotel guests can use. From the spa, guests can also see a waterfall behind which I seriously considered hiding so that I could stay. I could live behind a waterfall, get a massage and facial every day, and chill at the little beach. I'd like to volunteer to be the Spa at Ravella mascot. It will be hard to get beauty treatments every day, but I'm willing to do it.
I also got a kick out of hearing that on weekends, pets are welcome to the spa. Ravella is a pet-friendly hotel, as long as the critters are less than 25 pounds, so my cat Scout and I could get massages and pedicures together. Nice.
This Future Bride-to-Be Checks out the Chapel
I watch Say Yes to the Dress religiously, so it should come as no surprise that I was most interested in the details about weddings at Ravella. Ravella is the perfect location for a wedding in Vegas that doesn't want to feel like a wedding in Vegas. As someone who in the next couple of years will be planning such an event, I was very interested to see the wedding chapel and hear that couples can take a gondola to their ceremony. Sweet. Couples can choose from seven different gorgeous locations for their wedding. The wedding packages are incredibly affordable for both small and large events.
My Completely Humiliating Moment Involving Cake
If you've been wondering where my humiliating moment comes in, here it is. Lunch was served in the Medici Café, a restaurant that serves seasonal and nutritious food. I managed to eat my lunch like a normal human being, but then it was time for dessert.
A table piled high with all varieties of pastries and cakes stood in the center of the room. I approached it and was quickly drawn in by a platter of strawberry shortcakes. The platter rested atop a footed plate. I picked up a knife and started to separate the most delicious looking slice from the rest.
The cake platter began to topple from the footed plate. I held a dessert plate in my left hand, and my brain couldn't comprehend quickly enough that I should put said dessert plate down and grasp the platter with both hands to prevent disaster. I stupidly held onto my dessert plate with one hand the edge of the platter with my right. The platter fell, and as it did a waiter rushed to assist me. Only one slice of cake was lost that afternoon, but with it was my chance at delicious strawberry goodness. I was too embarrassed to try for another slice, so I loaded my plate with three chocolate desserts and walked away.
This Pale Blogger Reflects
Ravella at Lake Las Vegas is not for the usual Vegas tourist. This is a property for locals who want a getaway, or for Vegas tourists who aren't interested in the Strip. The only drawback I can find to this property is the winding way some guests will have to take to get to their rooms. As someone who frequently gets lost, I may need a GPS if I ever stay in the presidential suite!
As this was my first hotel opening, I have nothing to compare it to, but the event was incredibly well done. Perhaps my opinion was sealed the second I walked in the door as I was immediately presented with a glass of champagne, but everything from the reception to the opening ceremony to the tour of the property was executed perfectly. The hotel staff and PR team in charge of the event handled everything smoothly and with class.