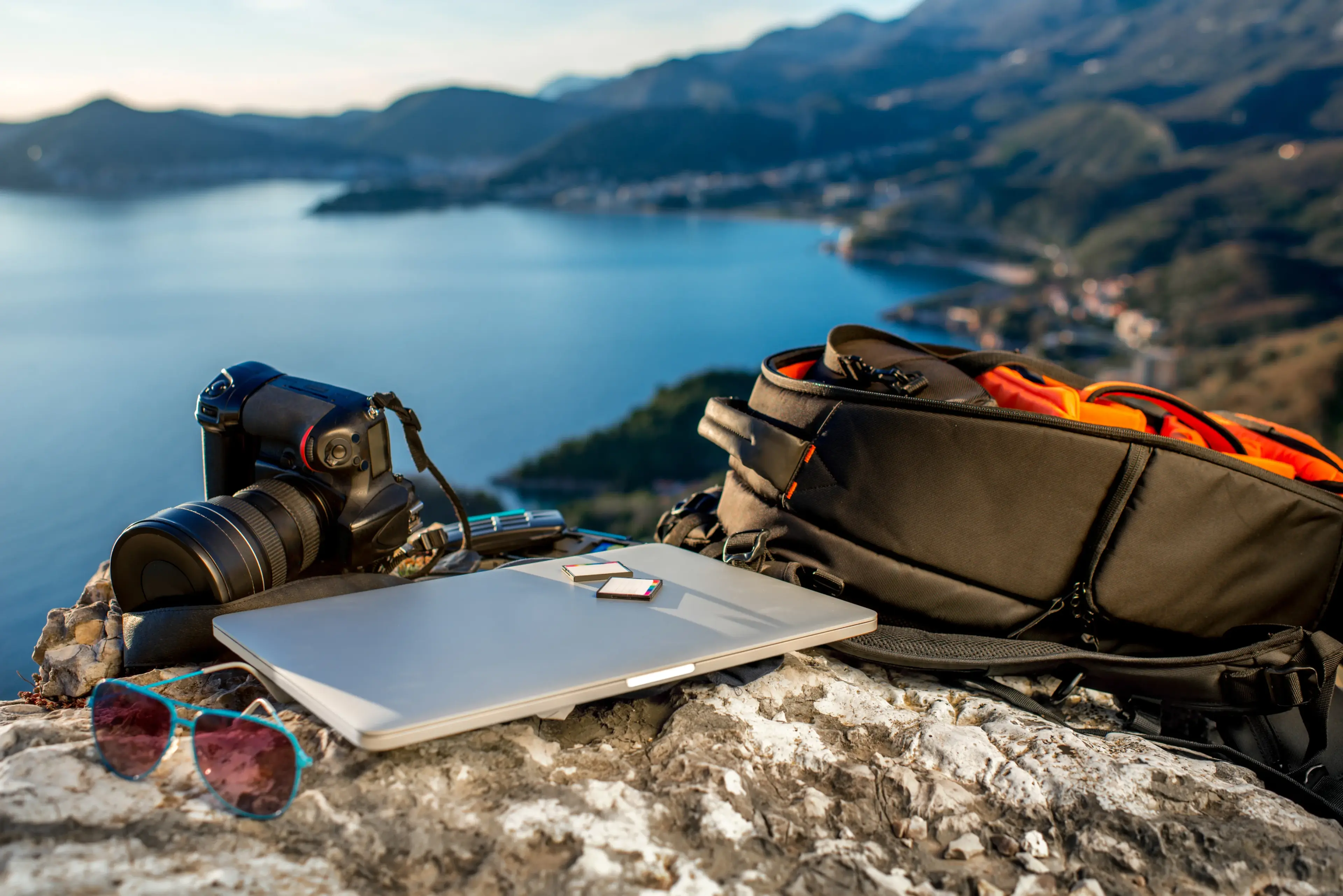 The Definitive Guide to Making Money with Your Travel Blog
RossHelen / Shutterstock
Why did you start your travel blog?
I'm sure you have a long list of reasons. Maybe you started it so your friends and family could follow your adventures, or maybe you just wanted to share your love of travel with the whole world. No matter what your primary reason might be, I bet you also wanted to make a little money.
Making money with a travel blog is a difficult nut to crack. I know from experience. My name is Alex Ritter, and I manage the business side of Travelated. I have an extensive background in internet marketing and website monetization, and I have spent the last year applying everything I know to Travelated. In 2011 I tried just about every type of advertising, sponsorship, and affiliate deal I could think of on this site. Most of the things we tried went nowhere, but some of them were big winners for us. In fact, this humble little travel blog ended up bringing in over $15,000 in 2011.
Now, nobody is going to retire on $15,000 per year, and not every site will be able to do what we did. That said, there are definitely things that every travel blogger can do (including us at Travelated) to earn a little more money. If you are actively traveling, just think what you could do with an extra $50 to $100 per month. How many nights sleeping in the airport or a questionable hostel could you turn into nights in a comfortable hotel?
If you want to make more money with your travel blog, keep reading. Below is a list of different ways you can monetize your blog along with tips on how to implement them successfully. If you want help, I will give you my personal email address at the end of this post. Please contact me, I would love to help you make more money with your travel blog.
CPC/CPM Ad Networks
The easiest form of monetization to implement are CPC (Cost Per Click) or CPM (Cost Per 1000 Impressions) ads. Google Adsense is the most popular CPC ad network, and if you have tried only one ad network I bet it is Adsense. CPC ads attempt to figure out what a page or post is about by picking out keywords, then they show a block of hopefully relevant ads. If someone clicks the ad, you are credited with a little cash. CPC ads can be either a banner or text. The important things for maximizing revenue with CPC ads are placement and the post topic.
CPM ads pay out per impression rather than per click. In other words, you will get paid a fraction of a penny for each page view that includes a CPM banner. There are more variables than just page views with CPM ads, but the gist is more page views leads to more money.
These are a few ad networks you should consider using on your blog.
Google Adsense – Adsense will offer the best CPCs (i.e. the most money per click) because it is the largest network (it has the most publishers and the most advertisers). As long as your blog meets Google's quality guidelines you will be approved, and you will be able to start placing ads on your site very quickly. The main downside of Adsense is that internet users are savvy enough to recognize Adsense ads when they see them, and many people won't click them anymore. Also, Google is very strict with payouts. If you receive a flood of traffic from StumbleUpon or some other social media site and it generates more clicks than normal, Google could decide the clicks were fraudulent and withhold your payments or even disable your account. Adsense probably won't earn a lot of money for a typical travel blog.
Chitika – Chitika is a lot like Google Adsense, but with more flexibility and more options for displaying your ads. Chitika mostly targets traffic that comes from search engines, so it can be a great compliment to Google Adsense. Chitika also allows you to create blocks of ads in the sizes you want, and even offers map ads that can be great to use on travel blogs. If you already use Adsense, you might want to try using Chitika in combination to increase your revenue. As long as your site meets Chitika's quality guidelines, you should be approved as a publisher with no problems.
Click here for more info on joining the Chitika Network
CPM Networks – There are many CPM networks you can consider joining that all do the same thing: show banners. You will need to prove a minimum level of page views per month to be accepted into a CPM network, usually 50,000 to 100,000 or more. These ads are best if you have a lot of page views and content that is very general in nature (webcomics, personal stories, etc.), or if a lot of your traffic comes from social media sites.
With any of these types of ads, the more traffic you get the more money you will make. How to get traffic is another topic entirely. The things you can control with these ads are placement, and what keyword the ads will focus on. In general, the more you put the ads in your readers' faces, the more likely the ads are to get clicked (see the graphic above – it shows where to place ads if you want to encourage clicks). Aggressive ad placement tends to irritate your regular readers though, so there is a definite tradeoff of money and return visitors. It is up to you to find a balance you are comfortable with.
Affiliate/CPA Networks
CPA stands for Cost Per Action. It means that someone must click your ad then make a specific action on the landing page, such as purchasing an item or supplying their email address, in order for you to get paid. The amount you get paid can be a flat fee or a percentage based commission. Earning money through a CPA ad is more difficult than CPC and much more difficult than CPM, but it can be by far the most profitable if it is implemented correctly, especially for a travel blog with loyal readers. With affiliate networks, you first have to get approved by the network, then you have to join specific programs. So, for example, if you wanted to advertise for Hotels.com you would need to join the appropriate affiliate network, then join the Hotels.com affiliate program in that network. You will need a plan for how you will generate traffic to get approved by the network, and your site will need to be aesthetically pleasing and on topic to be accepted by specific programs. It can be tough to get approved, but once you are approved you are only limited by your own creativity in how to promote the programs you join. Did you recently stay at a great hotel? You can recommend it to your readers and get a commission if they stay there! Do you absolutely love your luggage? Write a post about how great it is, and get a commission if someone buys it! Below are a few of the Affiliate networks I recommend for travel bloggers:
Commission Junction – This is probably the largest affiliate network, and it includes programs for many big-name travel sites (Travelocity, Hotels.com, Expedia, and many more).
Click here for more info on joining Commission Junction
Linkshare – This is another large network that includes some popular travel booking sites (Orbitz, CheapOair, Hotwire, and many others). Linkshare also includes a lot of handy tools that make integrating relevant ads very easy even if you have no coding or HTML experience.
Click here for more info on joining the Linkshare Network
Amazon – Amazon.com lists just about every product imaginable for sale, and you can get a commission on all of it. Like I mentioned earlier, if you love your luggage you can write a post about it and then show your readers where they can buy it on Amazon.com. If the person clicks your link and goes on to buy anything at Amazon.com you get a commission. Yes, you can link to a piece of luggage then get commissions if that person buys a Kindle. Again, your site must pass the Amazon approval process, but as long as it is a good looking site with original content you should get approved.
Click here for more info on joining the Amazon Affiliate Program
ShareASale – Another affiliate network similar to CJ or LinkShare, but with smaller advertisers in the Travel Niche.
The most important thing with CPA/Affiliate ads is you must have a plan in mind. It isn't as easy as placing a banner or block of text ads, but it can be much more profitable.
Sponsored Articles and Sponsored Links
Sponsored articles and sponsored links are fairly controversial among travel bloggers. This is an arrangement where the blogger accepts a cash payment in exchange for posting on their blog a link to a third party site or an entire article that includes links to a third party site. There are plenty of SEO specialists and marketing companies who are more than willing to pay you for a link back to their site (or their client's site). This is technically against the guidelines of Google, and it could result in your site getting penalized for selling links. You can minimize the risk of being penalized by Google by disclosing any links or articles that you were paid to post, and by using rel="nofollow" in the outbound links. You can earn anywhere from a few dollars per month for each sponsored link up to $100 or more for a sponsored post. This is entirely up to you and how comfortable you are with posting paid links or posts on your site. There are many ways to attract sponsored links or posts, but the easiest is to simply provide a way for advertisers to contact you on your blog.
Applications
Apps are all the rage these days, and I don't mean just iPhone and Android apps. You can make apps for facebook, or apps for browsers, or even make your own toolbar. There is a platform called Conduit which you can use to make your own branded toolbar and offer it to your readers. You can put together a toolbar in under 10 minutes and get paid for every install you generate. You can even get paid for placing some apps on your toolbar. I would suggest adding the TravelScout app if you build your own toolbar. Of course TravelScout is the app Travelated built, but it would be a great app for the audience of any travel blog.
Be Creative
The best advice I can give is to try to be creative. Don't be afraid to try anything you can think of. Contact anyone who might benefit from being mentioned on your blog. Do you rave about a specific hotel, product, or even a location on your blog? Contact anyone who stands to gain from your kind words and you might be amazed at what can happen. The travel industry is brutally competitive. Every country, state, city, hotel, and airline wants to attract every traveler they can. Your blog helps people decide where to go, where to stay, which airline to take, and even where to eat. Reach out to tourism boards, hotels, and even restaurants. They are all willing to listen to your ideas on how you can drive more business their way.
Our Breakdown
UPDATE: A few people have requested to see the breakdown of how much revenue we earned from each of these sources in 2011. So, below is a pie chart that shows where our income came from.
As you can see, the bulk of our revenue came from Commission Junction and Linkshare, and most of that revenue is from our TravelScout coupons. We made just a tiny bit of money from CPC and CPM ads because we made the conscious decision not to place ads in our content area, but instead focus on building a loyal reader base who would be inclined to use our coupons and even install our TravelScout app. What you don't see on the chart are the things we tried that brought in no money (such as our attempt to sell our own travel guides). We also chose to stop accepting sponsored posts early in 2011, or our revenue from those activities could have been much higher.
Conclusion
Are you still with me? I know this is a very wordy post, but this is just scratching the surface of ways to make money with your travel blog. I would be glad to help you if you need advice on what to try on your site or how to implement it. I would love to help you with anything from ad placement to discussing ways we can partner up. Send me an email, alex -at- travelated.com. I know making money with your travel blog can be difficult, but I would love the chance to help you out.