Explore hotel options in Brookdale, California
List your travel dates to unveil the current prices and hot deals for hotels in Brookdale.
Welcome to Brookdale, the charming census-designated place in Santa Cruz County, California! This idyllic destination is located in the beautiful San Lorenzo Valley, nestled between Boulder Creek and Ben Lomond. And let me tell you, Brookdale is not your average small town. It's home to an incredible historic resort called Brookdale Lodge, which has quite the reputation for being haunted by ghosts. But don't worry, you won't be scared away from this unique hotel experience!
The Brookdale Lodge is the heart and soul of this community, and it has quite the storied past. Back in the day, it was the second most popular resort in California, attracting Hollywood stars like Mae West, Marilyn Monroe, and even President Herbert Hoover. Imagine fishing right off the dining room bridge alongside the leader of the free world! And if that's not enough to pique your interest, the lodge's dining room spans a beautiful creek, adding to its enchanting ambiance.
But it hasn't been all sunshine and rainbows for the Brookdale Lodge. This historic establishment has had its fair share of fires, the last one being of suspicious origin. However, fear not, as the lodge is currently undergoing intensive renovations and is ready to welcome you with open arms. So why not stay at this haunted-yet-hospitable hotel and experience the magic and mystery of Brookdale? You won't be disappointed!
Best Hotels in Brookdale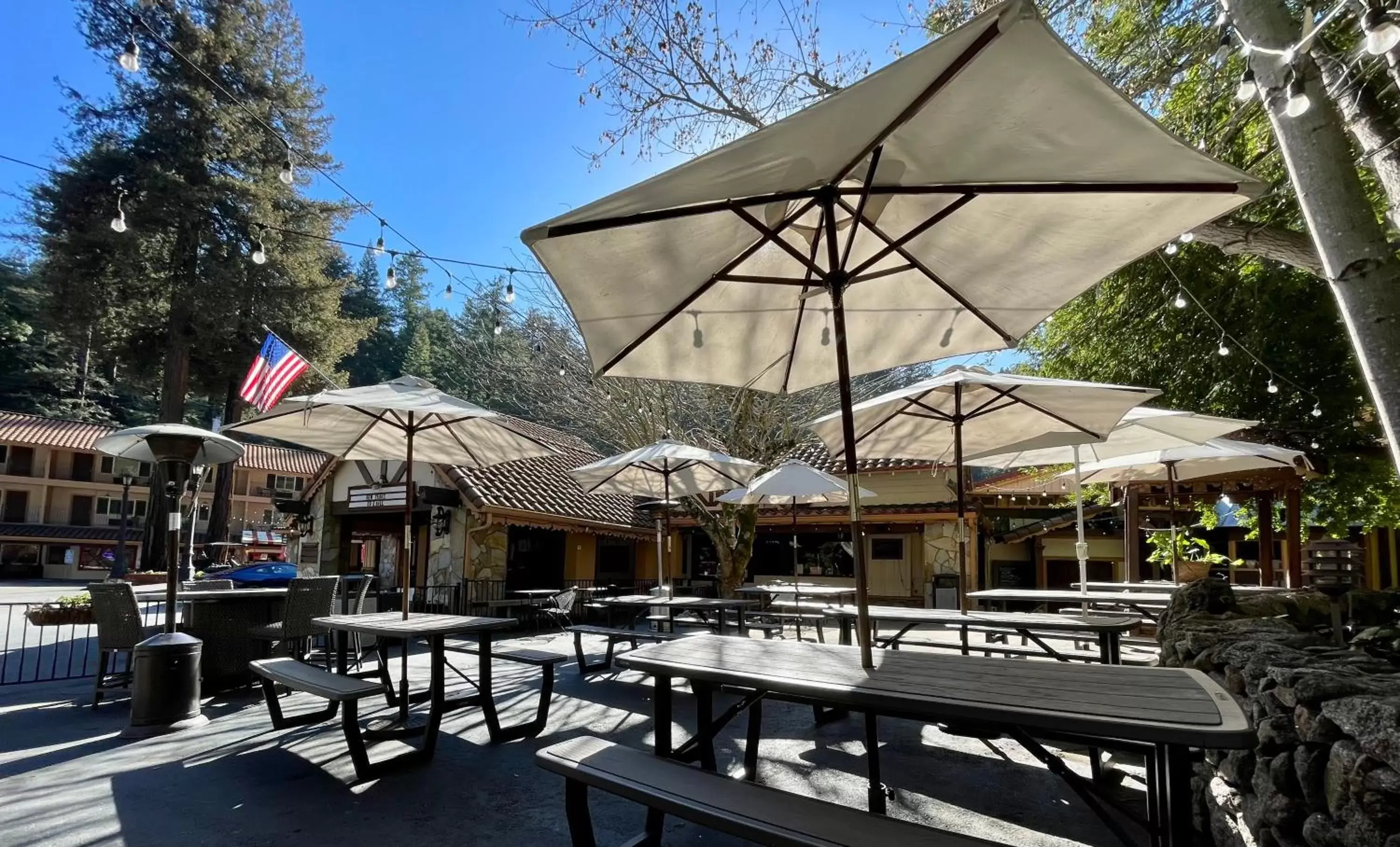 The Historic Brookdale Lodge in the Santa Cruz Mountains is a standout choice amongst other hotels in the area. Not only does it offer convenient free parking and pet-friendly accommodations, but it also boasts stunning mountain views and private entrances. Guests can enjoy a relaxing stay in the non-smoking rooms with amenities such as a bar, restaurant, and picnic area. Additionally, the lodge provides various activities including golfing, hiking, and fishing, ensuring that guests are never bored during their stay. With its prime location just 0.2mi from the city center, The Historic Brookdale Lodge offers a unique and enjoyable experience for travelers in California.
Show more
Which 3-star hotels are the most popular?
The Historic Brookdale Lodge, located in the heart of Brookdale city, is a popular 3-star hotel among travelers. With its close proximity to the city center, guests can easily access the main attractions and amenities within a short distance of just 0.2mi. The lodge offers a range of featured amenities to ensure a comfortable stay for its guests, including free parking, pet-friendly accommodations (with extra charges), and complimentary WiFi. The air-conditioned rooms have a private entrance and offer picturesque mountain views. Guests can also enjoy the on-site bar and restaurant, as well as relax in the picnic area, sun deck, or terrace.
In addition to its featured amenities, The Historic Brookdale Lodge also provides various other facilities and services. These include a convenience store on-site, designated smoking area, and a smoke-free property. The lodge offers daily housekeeping free of charge, ensuring that guests' rooms are kept clean and well-maintained throughout their stay. For those who enjoy outdoor activities, the lodge offers hiking and fishing options (with extra charges), allowing guests to explore and appreciate the natural surroundings of the Santa Cruz Mountains. The lodge also has an ATM on-site, as well as baggage storage facilities for added convenience.
With its array of amenities and convenient location, The Historic Brookdale Lodge is a popular choice for travelers seeking a comfortable and enjoyable stay in Brookdale city. From its mountain views to its pet-friendly accommodations, the lodge provides a range of options to cater to various traveler preferences. Whether guests are seeking a relaxing getaway or an adventure-filled trip exploring the nearby hiking trails and fishing spots, The Historic Brookdale Lodge offers a pleasant stay with its attentive staff and well-maintained facilities.
Frequently Asked Questions
What is the lowest price of hotels in Brookdale?
Looking for an affordable stay in Brookdale? Look no further than The Historic Brookdale Lodge, nestled in the scenic Santa Cruz Mountains. With prices starting from just $104, you can enjoy the charm and history of this delightful lodge without breaking the bank.
What is the average price of hotels in Brookdale?
Looking to stay in Brookdale? You're in luck! The average price for 3-star hotels in this charming town is just $104. With affordable options like this, you can enjoy a comfortable stay without breaking the bank. So go ahead and plan your next getaway to Brookdale without worrying about pricey accommodations!
What are the best hotels in Brookdale center?
Look no further than The Historic Brookdale Lodge in Brookdale Center for a truly memorable stay. Nestled in the stunning Santa Cruz Mountains, this hotel offers a unique experience that combines history and natural beauty. With prices starting from just $104, it's an affordable option for travelers looking for a one-of-a-kind getaway.