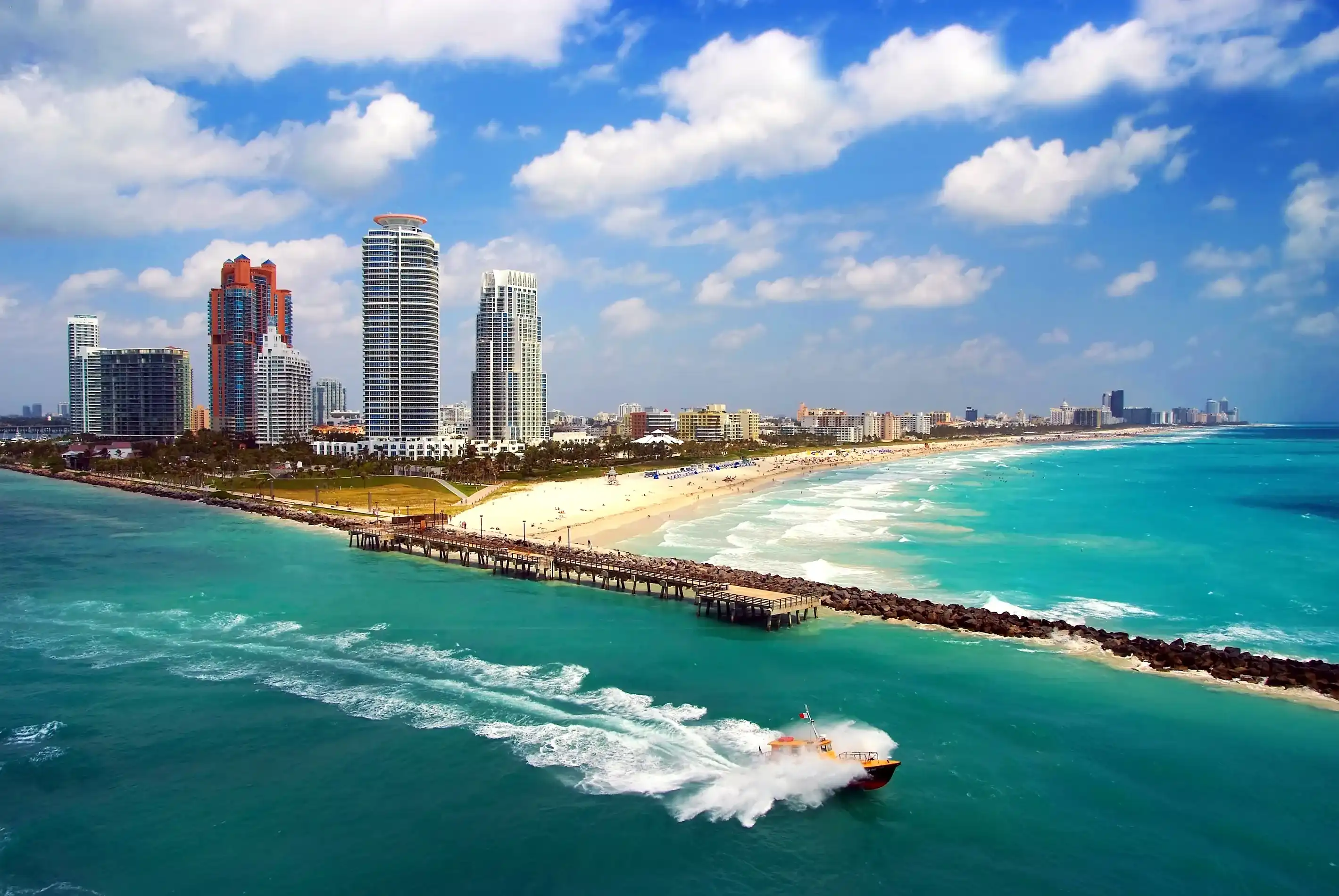 Find accommodations in Miramar, Florida
Enter your dates to see the latest prices and deals for Miramar hotels.
Welcome to Miramar, where the beauty of the sea meets progress! This vibrant city in southern Florida is the perfect destination for those seeking a blend of relaxation and excitement. Miramar is a key suburb of the Miami metropolitan area, making it an ideal location for both adventure-seekers and those who simply want to unwind.
When it comes to accommodations, Miramar has it all. From luxurious beachfront resorts to cozy boutique hotels, there is something to suit every traveler's needs. Picture yourself waking up to stunning ocean views, sipping your morning coffee on your private balcony, or enjoying a dip in a refreshing pool. With a range of options available, you'll find the perfect place to rest your head after a fun-filled day exploring the city.
Besides the beautiful hotels, Miramar is home to several exciting landmarks and attractions. The Miramar Cultural Center and ArtsPark is a must-visit for all art enthusiasts, showcasing creativity and diversity within the city. If you're in the mood for some outdoor entertainment, head to the Miramar Regional Park Amphitheater, where you can catch live concert performances and even witness film and television production. And let's not forget about the culinary delights in Miramar – with a variety of restaurants offering delicious international cuisine, your taste buds are in for a treat.
So whether you're seeking sun-soaked beaches, thrilling adventures, or cultural experiences, Miramar has it all. Discover the beauty and progress of this picturesque city and create memories that will last a lifetime. Book your stay at one of our fabulous hotels and let the magic of Miramar enchant you.
Best Hotels in Miramar
Which 3-star hotels are the most popular?
Miramar City is home to several popular 3-star hotels that offer a range of amenities and services to cater to the needs of travelers. One such hotel is the Hilton Garden Inn Ft. Lauderdale SW/Miramar, which offers an outdoor swimming pool, a fitness center, and a convenient location just 6.8mi from the city center. Guests can enjoy a comfortable stay in non-smoking rooms with air conditioning and free Wi-Fi. The hotel also features a restaurant, a bar, and a 24-hour front desk for added convenience.
Another popular choice is the SpringHill Suites by Marriott Fort Lauderdale Miramar, located just 3.9mi from the city center. This pet-friendly hotel offers a fitness center and non-smoking rooms with air conditioning. Guests can start their day with a complimentary breakfast before exploring the nearby golf course or tennis court. The hotel also features a 24-hour front desk and a private bathroom in each room.
For those looking for a slightly higher price point, the Home2 Suites by Hilton Miramar Ft. Lauderdale is a great option. With a starting price of $248, this hotel offers a range of amenities including a free parking, an outdoor swimming pool, and a fitness center. The spacious rooms are equipped with a kitchen, free Wi-Fi, and a private bathroom. Guests can also enjoy the convenience of a 24-hour front desk and a business center. The hotel is located 7.2mi from the city center, providing a peaceful retreat for travelers.
Frequently Asked Questions
What is the lowest price of hotels in Miramar?
Show more
What is the average price of hotels in Miramar?
Looking to get the best bang for your buck in Miramar? Well, the average price for a stay at a 3-star hotel is $202! With this affordable option, you can enjoy the beautiful beaches and vibrant atmosphere of Miramar without breaking the bank. So go ahead, book your stay and get ready for an unforgettable adventure at a great price!
What are the best hotels in Miramar center?
Show more