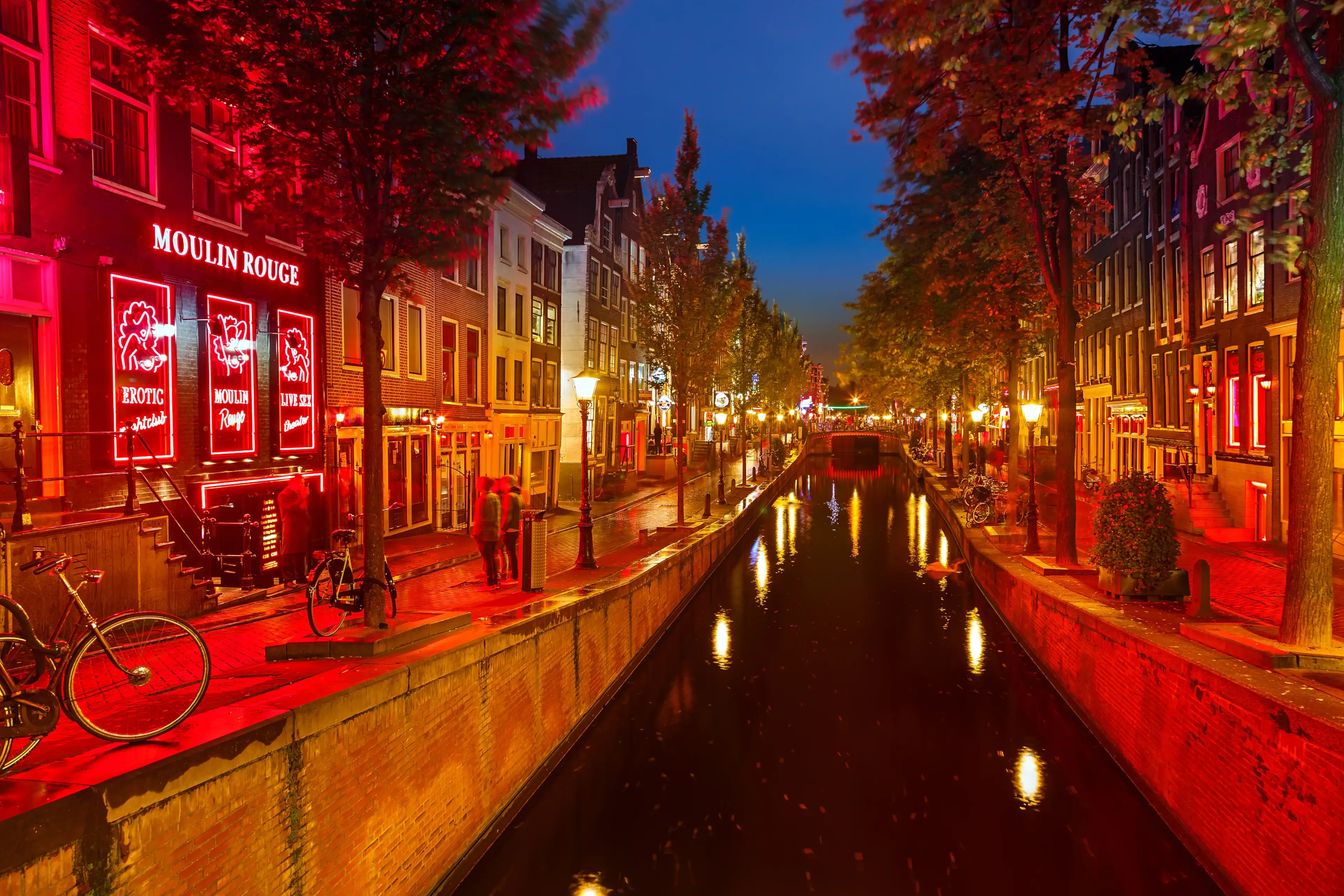 Amsterdam: Rules of the Red Light District
S.Borisov / Shutterstock
Amsterdam's Red Light District is a tiny 500 square meters, but it delivers a big punch, with women from around the world openly selling their bodies in store-front windows. Known as The Wallen, you can search it out by walking the streets with "wal" at the end of their name, like Oudezijds Voorburgwal and Nieuwezijds Achterburgwal.
The Red Light District got its start when Amsterdam was a shipping power. Where there're sailors, you'll find the oldest profession. This notable Amsterdam neighborhood has been around at least since the early 1400s.
Prostitute Pricing
The women pay between 100–150 Euros per day to rent a window, called "peeskamertjes" in Dutch. Typically the women make about 500 Euros a night, but can make as much as 1,000 Euros on the weekend. For 15 minutes of oral sex or intercourse, the customer pays 50 Euros. When the curtains are drawn, the window is occupied.
Safety First!
All the prostitutes are legal (since 2001) and most undergo regular health checks. Supposedly the police don't patrol the area, so if you partake, here are a few safety tips to keep in mind:
All the prostitutes have bodyguards (although they may not be visible). Don't even think about hurting or abusing the women.
No photographs allowed. If you can't resist a snap, you could have your film and possibly even your camera confiscated (probably by those same hidden body guards).
Only sex with a condom.
Blue Light Special. If a blue light glows above the door you are dealing with a transsexual — Just thought you should know what you're getting.
Charlie Boys. That's was the Red Light District's drug dealers are called…mainly because they go around asking if you want any "Charlie" – cocaine, heroin or ecstasy.
Red Light Fashion
Recent new laws have enabled the Dutch government to close establishments suspected of criminal activity. While prostitution is legal, the pervasive drug dealing, money laundering, and gang activity surrounding the trade is not.
Several years ago the government spent US $40 million to buy 16 buildings – all former brothels – from one prostitution baron. This purchase bought out about a third of all of the Red Light District's brothels.
The government has since used this real estate to launch a campaign called "Red Light Fashion." The government offers the windows to fashion designers to display their work. The windows are given rent-free to the designers for one year.
I hope Red Light Fashion takes off. It's a much better use of experimental ideas and creative clothing than the current sex-centered version.